Domare Parsonspecialen 2012 Margaret Hooley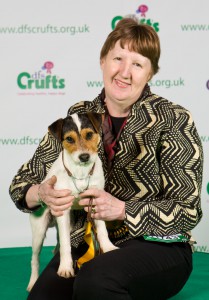 I am delighted to be invited to judge in Sweden in 2012 and be
given the opportunity to meet exhibitors and dogs at this Show.
I have been asked to give a brief overview of my experience
judging but thought I would start by saying my love of Terriers
goes way back to my childhood on my Mum and Dad's farm when
I was privileged to have my own horse and always a terrier at my
side.  My dad was a keen 'rabbitting' man who was often seen going
off with a gun under his arm, a sack with ferrets in and our terriers
at his side, so my experience of working dogs came at a young age.
In 1996 whilst visiting Crufts my husband Mark and I visited the
Discover Dogs section and met Gladys and Douglas Philps and their
dog Mindlen Hoolet of Muhlross and soon realised the PRT would
provide us with a breed of dog so versatile that we could Show, do
obedience with and more importantly hopefully compete in Agility
Competitions.
In 1999 we purchased a PRT litter Brother and Sister and immediately got hooked on showing, the
dog later becoming Show Champion and attaining Senior status in KC Agility events, the first PRT in
the UK to do this.  The rest is history and we are now the proud owners of 9 Parson Russell Terriers.
We were delighted to have bred our first Champion PRT in 2010 who went on to be the Cruft's 2011
Best of Breed winner.
I started judging PRT's in 2002, in 2007 judged the Northern PRT Club Open Show and in 2010 was
approved by the Kennel Club to give CC's for the first time.
I am Chairman of the UK Parson Russell Terrier Club and a Committee member of the Northern
Parson Russell Terrier Club.  I particularly enjoy Show Managing, stewarding and anything else relating
to the Breed.
Thank you again, for your kind invitation to judge and look forward to the opportunity of judging your
dogs and hopefully viewing other dog events over the weekend.
Margaret Hooley
Hoolmark Parson Russell Terriers
12th January 2012